Wendy's Bunnell in Bunnell, FL
Opens At 6:30 AM
Opens At 6:30 AM
Opens At 6:30 AM
Opens At 6:30 AM
Opens At 4:00 PM
Opens At 6:30 AM
Opens At 6:30 AM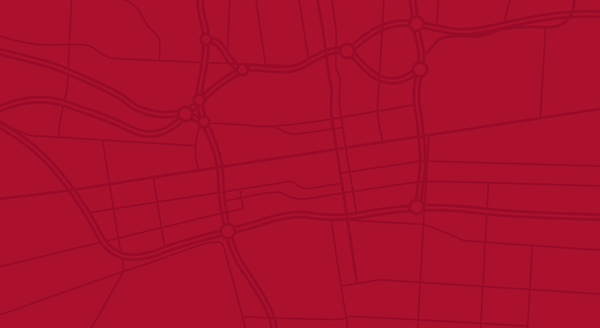 Contact
Order Delivery
At This Location:
Breakfast

Coca-Cola Freestyle

Mobile Ordering

Mobile Payment

Wi-Fi

Open Late

Open Late

Open Late

Open Late

Open Late

Open Late

Open Late
Restaurant Hours
| Day of the Week | Hours |
| --- | --- |
| Monday | Closed |
| Tuesday | Closed |
| Wednesday | Closed |
| Thursday | Closed |
| Friday | Closed |
| Saturday | Closed |
| Sunday | Closed |
Breakfast ends at 6:30 AM
Breakfast ends at 6:30 AM
Breakfast ends at 6:30 AM
Breakfast ends at 6:30 AM
Breakfast ends at 6:30 AM
Breakfast ends at 6:30 AM
Holiday Hours May Vary
Drive Thru Hours
Day of the Week
Hours
Monday

6:30 AM

-

12:00 AM

Tuesday

6:30 AM

-

12:00 AM

Wednesday

6:30 AM

-

12:00 AM

Thursday

6:30 AM

-

12:00 AM

Friday

4:00 PM

-

12:00 AM

Saturday

6:30 AM

-

12:00 AM

Sunday

6:30 AM

-

12:00 AM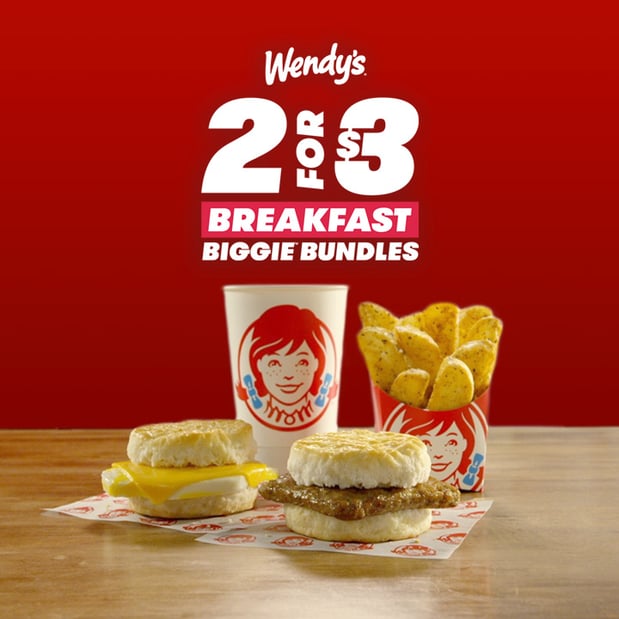 Choose Your Own Breakfast Adventure 
With Wendy's NEW Breakfast 2 for $3 Biggie Bundles, you can mix and match your very own perfect pairing of our delicious morning favorites. Choose from the Sausage Biscuit, Egg & Cheese Biscuit, Small Seasoned Potatoes, or a Medium Hot Coffee.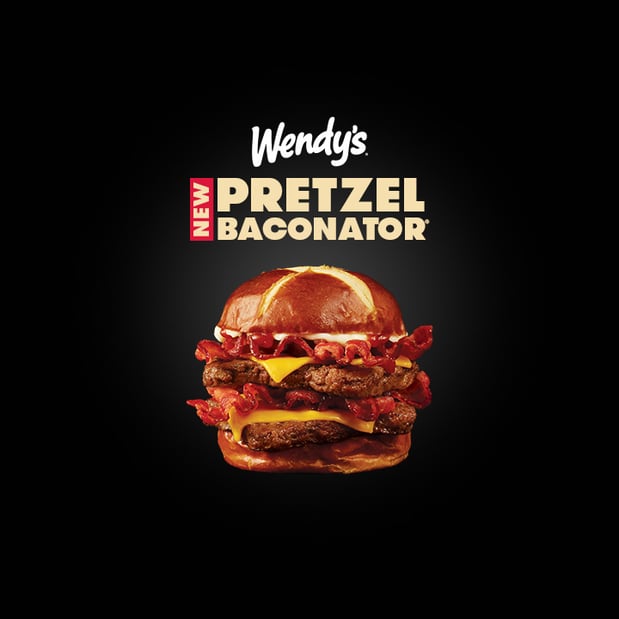 NEW Pretzel Baconator
Our classic Baconator literally can't be more perfect, so we gave it a twist. For a limited time, get Wendy's NEW Pretzel Baconator. Same classic deliciousness, new pretzel bun.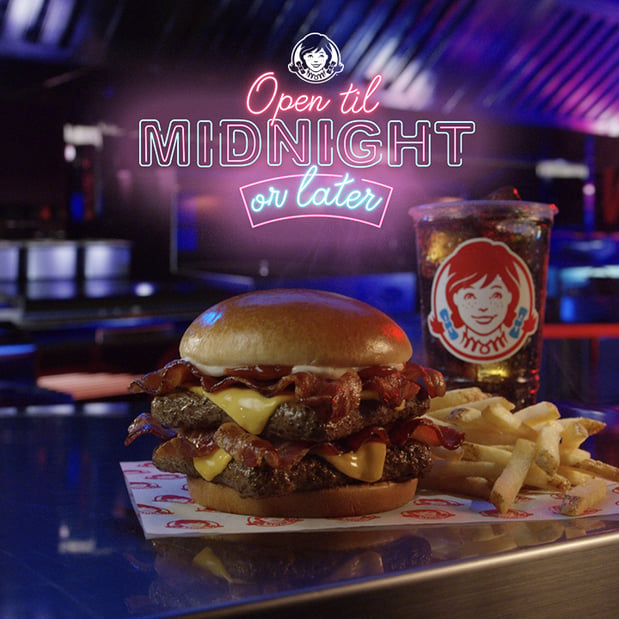 Introducing the BaconLater
It still tastes just as juicy and just as bacon-y at night as it does during the day. Wendy's is open til midnight or later, so you can give in to your late-night cravings. Go full night mode and turn in for the night at Wendy's drive-thru.
What's New at Wendy's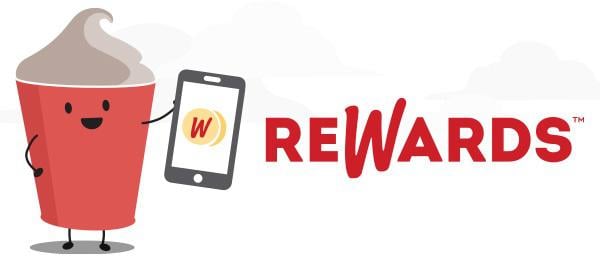 Join Wendy's Rewards!
The only thing better than eating Wendy's, is earning more Wendy's while you eat. And that, friends, is what Wendy's Rewards is all about. Sign up today and make eating at your favorite restaurant even better.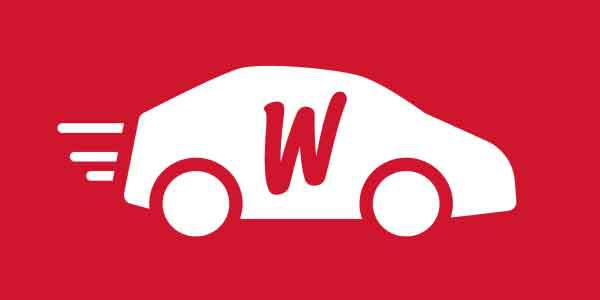 Wendy's Delivery
Whether you're hungry for breakfast, lunch, or dinner, there's more than one way to get Wendy's delivered. You can start your delivery order straight from our app, or head to any of our official third-party partners, DoorDash, Grubhub, Postmates, and Uber Eats. So, you can get your Wendy's favorites from your favorite delivery app anytime you want it.
Featured Menu Items
Peppermint Frosty® Cream Cold Brew

Smooth, cold-brewed coffee, our classic vanilla Frosty®? mix, and cool peppermint syrup all swirled together and served over ice. Snowflakes wish they tasted this good.

Homestyle French Toast Sticks, 4 PC

Four warm, fluffy French toast sticks that don't really remind you of how Mom made them because, to be honest, these are better. Dip them in our syrup, and maybe don't tell her about it.
Featured Menu Items
Peppermint Frosty®

Frosty®? is all dressed up for the holidays and bringing some cool peppermint flavor to the party—because warm and cozy is overrated.

Loaded Nacho Single Cheeseburger

A quarter pound of fresh, never-frozen beef, American cheese, hot and crispy corn and tortilla strips, spicy chipotle sauce, poblano queso, lettuce, and tomatoes on a jalapeño cheddar bun. This burger takes everything up a nacho.
Featured Menu Items
Strawberry Frosty

A light and fruity spin on your favorite thick and creamy dessert. Sweet as a freshly picked strawberry, perfect for a freshly dipped fry.

6PC Chicken Nuggs

100% white-meat chicken breaded to crispy perfection and served with your choice of 6 dipping sauces including Buttermilk Ranch, BBQ, Sweet & Sour, Honey Mustard, or Ghost Pepper Ranch. They're trending in our restaurants and Twitter feed alike.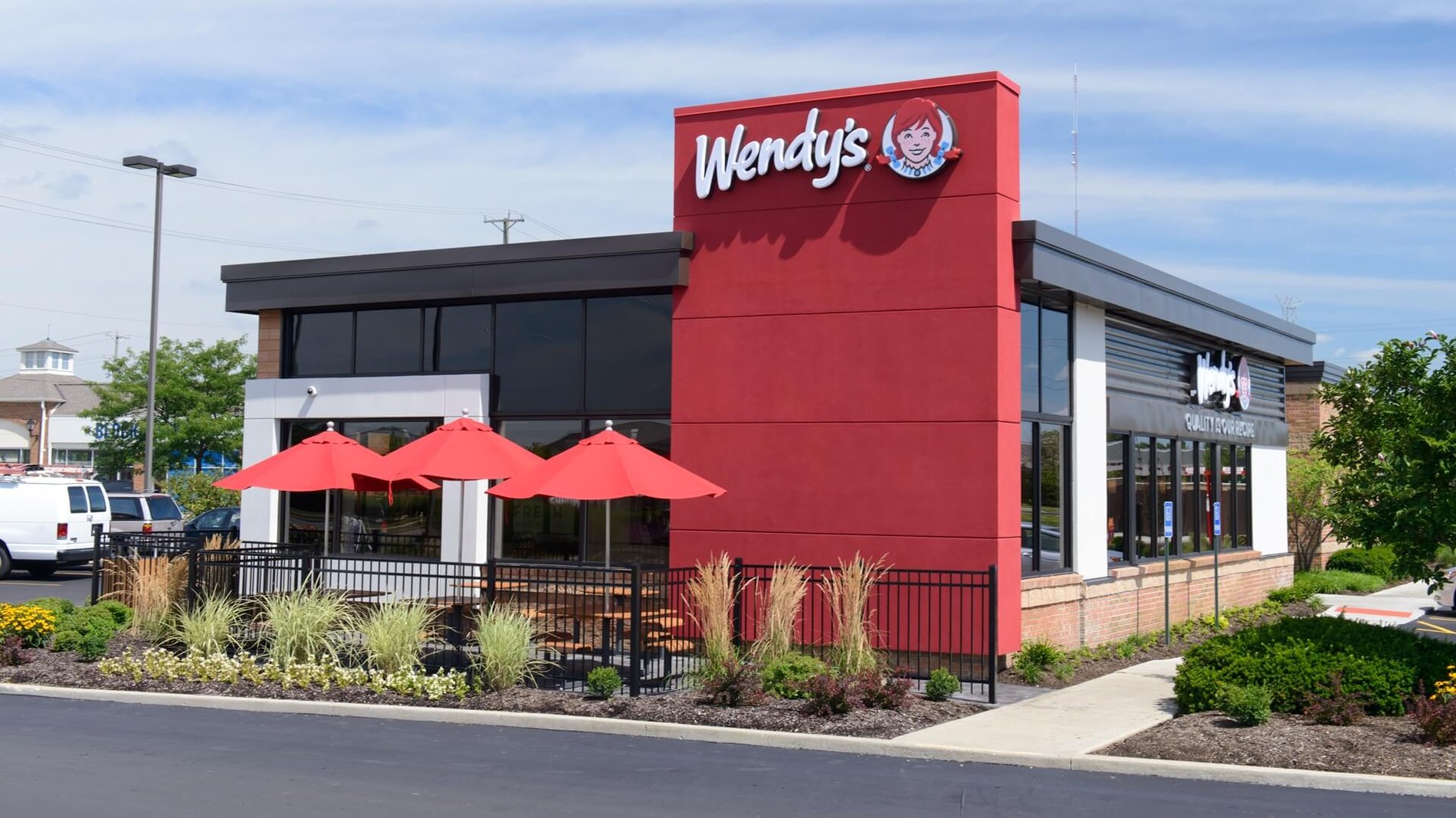 About Wendy's 2570 Commerce Parkway
At Wendy's in Bunnell, FL, we got breakfast, lunch, and dinner. From fresh-cracked eggs to fresh, never-frozen beef, We Got You®.

Our square-pattied hamburgers always bring the freshness, our chicken sandwiches changed the game, and you know you love our nuggets. But we also got fresh-made salads, hot and crispy fries, even old-school chili and baked potatoes. You can start strong with one of our new breakfast sandwiches and a coffee drink, or satisfy your sweet tooth with a Frosty® or something from our bakery. From Kids' Meals to meal deals, our menu is stacked with value.

So, stop by Wendy's at 2570 Commerce Parkway in Bunnell, FL. And don't forget to download our app for restaurant info like hours, menu, nutrition, and exclusive deals.

Fresh beef available in the contiguous U.S., Alaska and Canada.
wendys.com
Frequently Asked Questions