Wendy's 7977 Dani in Ft.Myers, FL
Opens At 7:00 AM
Opens At 7:00 AM
Opens At 7:00 AM
Opens At 7:00 AM
Opens At 7:00 AM
Opens At 7:00 AM
Opens At 7:00 AM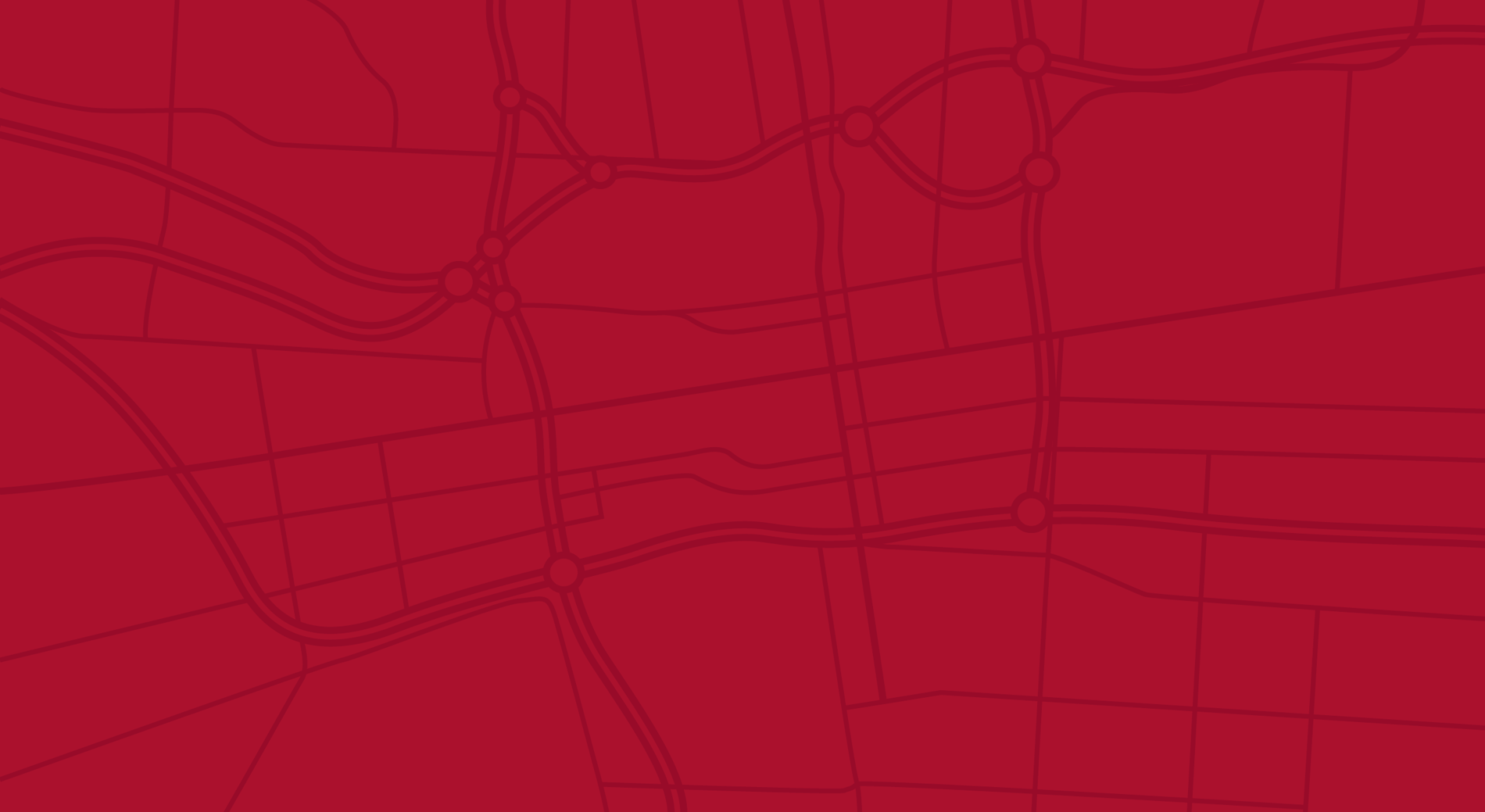 Contact
7977 Dani Drive, Suite 100
US
Order Online
At This Location:
Breakfast

Coca-Cola Freestyle

Mobile Ordering

Mobile Payment

Wi-Fi

Open Late

Open Late

Open Late

Open Late

Open Late

Open Late

Open Late
Restaurant Hours
Day of the Week
Hours
Monday

9:00 AM

-

6:00 PM

Tuesday

9:00 AM

-

6:00 PM

Wednesday

9:00 AM

-

6:00 PM

Thursday

9:00 AM

-

6:00 PM

Friday

9:00 AM

-

6:00 PM

Saturday

9:00 AM

-

6:00 PM

Sunday

9:00 AM

-

6:00 PM
Holiday Hours May Vary
Drive Thru Hours
Day of the Week
Hours
Monday

7:00 AM

-

12:00 AM

Tuesday

7:00 AM

-

12:00 AM

Wednesday

7:00 AM

-

12:00 AM

Thursday

7:00 AM

-

12:00 AM

Friday

7:00 AM

-

12:00 AM

Saturday

7:00 AM

-

12:00 AM

Sunday

7:00 AM

-

12:00 AM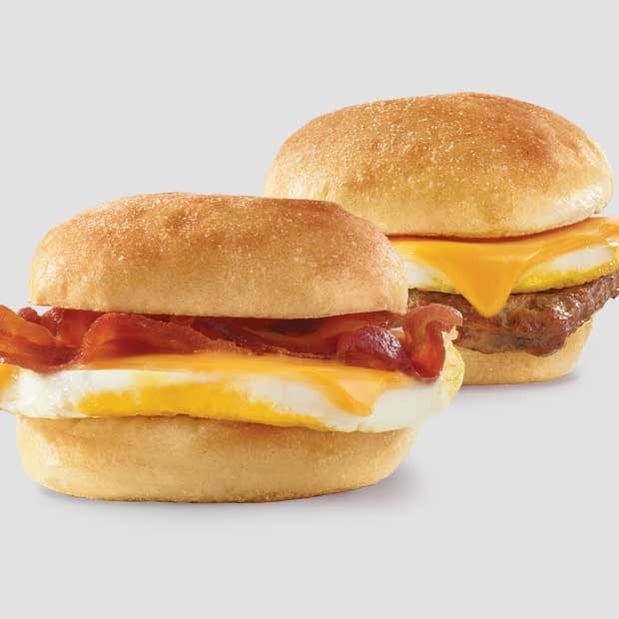 The Classics are always good. And now also free with purchase.
The first breakfast sandwich ever was probably bacon, egg, and cheese on a roll. Or maybe whoever made it went with sausage, egg and cheese on roll. Either way, it was delicious then and it's delicious now. But now it's actually better because both the Classic Bacon, Egg & Cheese Sandwich and the Classic Sausage, Egg, & Cheese Sandwich are free with any purchase when you use the offer in our app. Classic.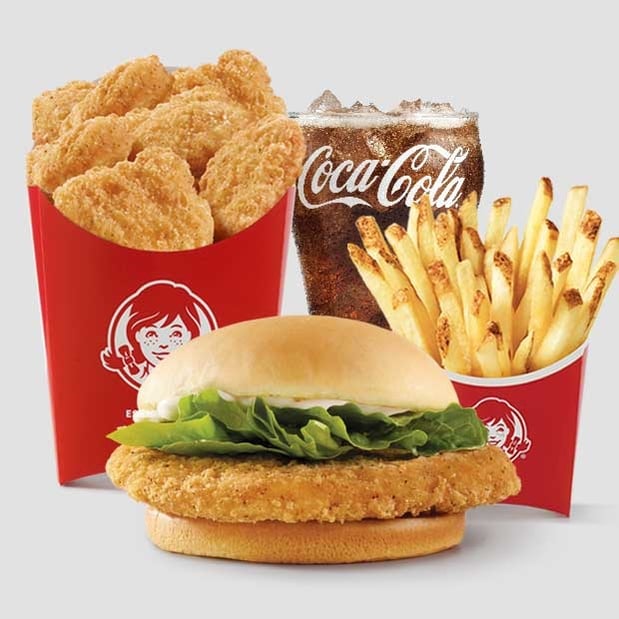 The $5 Biggie™ Bag is a big ol' bag o' chicken for $5.
A 10 PC Nugg and Crispy Chicken Sandwich is a lot of chicken no matter who you are. And to top it off you also get fries and a drink. That's a good amount of food for an even better amount of money.
What's New at Wendy's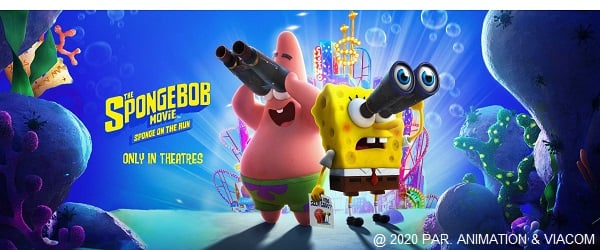 Everyone's Favorite Sponge is coming to Wendy's!
This colorful collection is based on The SpongeBob Movie: Sponge On The Run and features all seven main characters as fun, figural clip-ons that kids can carry anywhere. Inside each of the clips, kids will find a cutout paper figure and a camp badge featuring the character.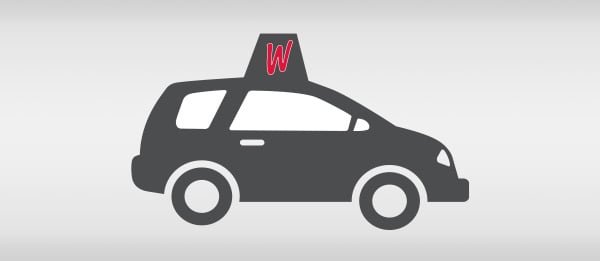 Get it Delivered
Craving a Dave's Double®? Crispy nuggets? A Frosty®? You're in luck. Order Wendy's thru DoorDash, Grubhub or Postmates and get it delivered to your door.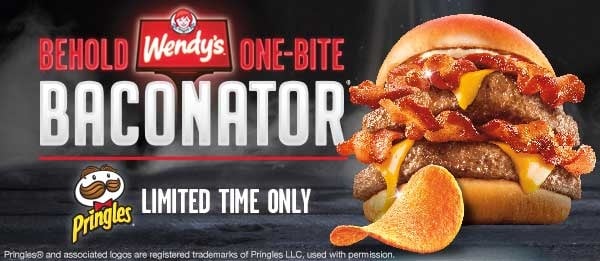 Introducing Pringles® Baconator®
You know how you've always wanted to eat an entire stack of Baconator® cheeseburgers? Wish granted, my friend. And, check under the Pringles lid for a code that'll get you FREE food in the Wendy's® app.
Featured Menu Items
Breakfast Baconator™

Grilled sausage, American cheese, Applewood smoked bacon, a fresh-cracked grade A egg, (deep breath) more cheese and more bacon all covered in swiss cheese sauce. Don't just break your fast. Destroy it.

Vanilla Frosty®-ccino

Smooth, cold-brewed coffee swirled with our legendary vanilla Frosty mix and served over ice.

Honey Butter Chicken Biscuit

A crispy, chicken fillet, perfectly seasoned and topped with maple honey butter on a fluffy buttermilk biscuit. It's sweet, it's savory, and it's a great reason to get out of bed in the morning.
Featured Menu Items
Southwest Avocado Chicken Salad

Made fresh daily with Wendy's signature lettuce blend, pepper jack cheese, diced tomatoes, cool, creamy avocado, Applewood smoked bacon, and grilled chicken breast hot off the grill, all topped with Marzetti® Simply Dressed® Southwest Ranch Dressing. It's zesty and Southwesty! Nutrition and allergen information is inclusive of all ingredients in this salad including two packets of dressing on the full-size salad and one packet on the half, which come on the side.

Frosty® Cookie Sundae

Vanilla or Chocolate Frosty® topped with Chocolate Chunk Cookie bites and Ghirardelli® Chocolate Sauce.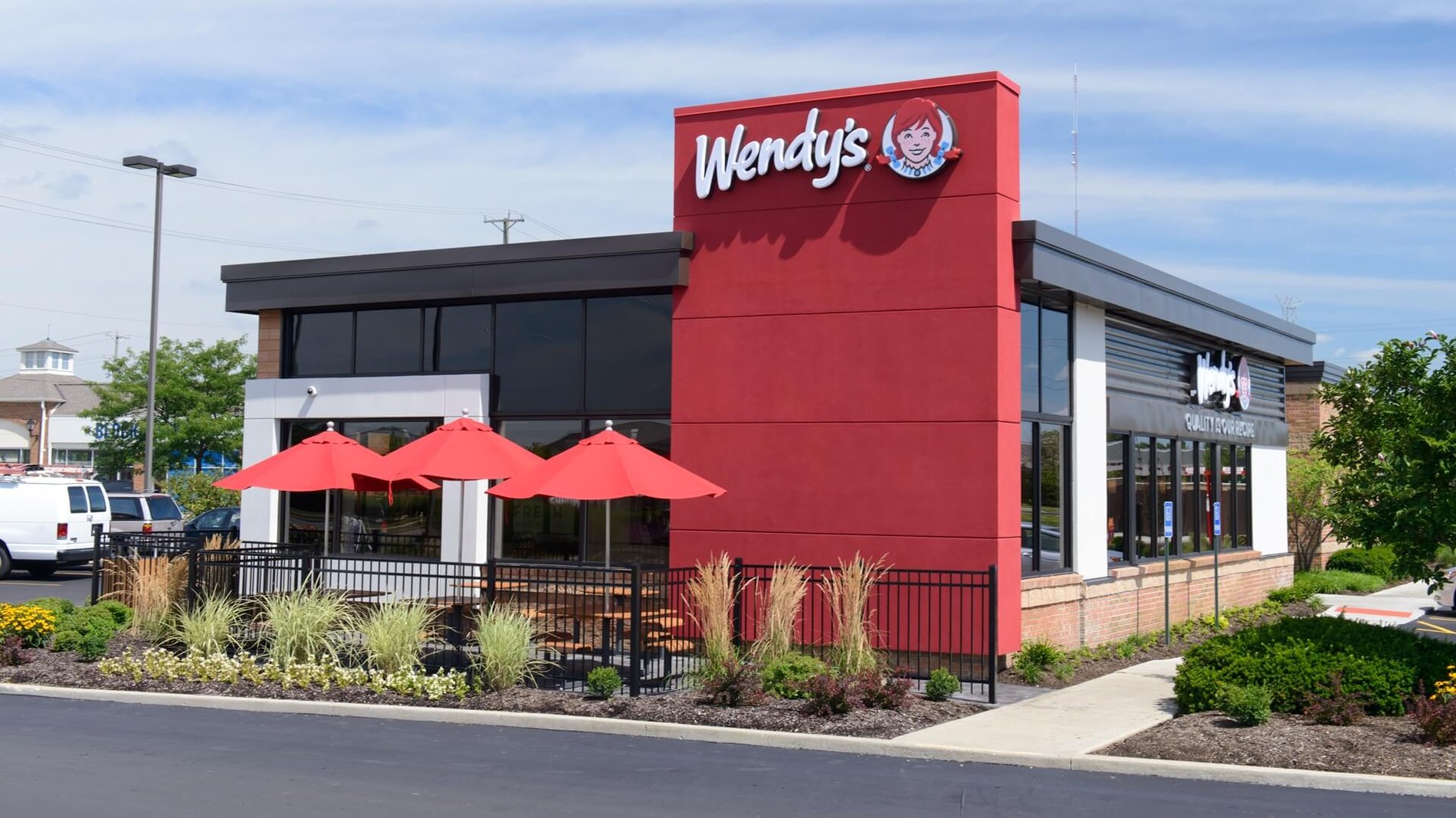 About Wendy's 7977 Dani Drive, Suite 100
At Wendy's in Ft.Myers, FL, we got breakfast, lunch, and dinner. From fresh-cracked eggs to fresh, never-frozen beef, We Got You®.

Our square-pattied hamburgers always bring the freshness, our chicken sandwiches changed the game, and you know you love our nuggets. But we also got fresh-made salads, hot and crispy fries, even old-school chili and baked potatoes. You can start strong with one of our new breakfast sandwiches and a coffee drink, or satisfy your sweet tooth with a Frosty® or something from our bakery. From Kids' Meals to meal deals, our menu is stacked with value.

So, stop by Wendy's at 7977 Dani Drive, Suite 100 in Ft.Myers, FL. And don't forget to download our app for restaurant info like hours, menu, nutrition, and exclusive deals.

Fresh beef available in the contiguous U.S., Alaska and Canada.
wendys.com
Frequently Asked Questions